I am choosing to enter text right here because I want you to have a chance to exit this page, if you aren't yet prepared to see what reconstruction looks like.
I must remind you that these are FRESH reconstruction photos, taken within 1 week of the surgery.
I promise you that scars DO fade over time.
My favorite Thomas Kinkade "Twilight Cottage"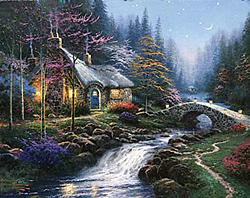 Another beautiful Thomas Kinkade "Split Rock"
Ready?
These are photos of a "lat (latissimus) flap reconstruction
Seven days post-op. The yellow is betadine iodine (used to clean the area) on the surgical strips, called "steri-strips."
Approximately 8 months post-op. No nipple reconstruction yet.
The final product. Nipples are tattooed on.